This is a custom Harley Davidson Full Tilt table and PokerStars theme for fastphil1. Good luck!
www.railbirds.com/blog/231950/how-to-install-custom-full-tilt-itemstable-backgroundseats-ect.html
INSTALLATION INSTRUCTIONS
*Note* I use IE and Windows Vista Premium so some things may be different depending on which programs you use.
Install the stars theme from PokerStars first if it isn't already installed on your computer.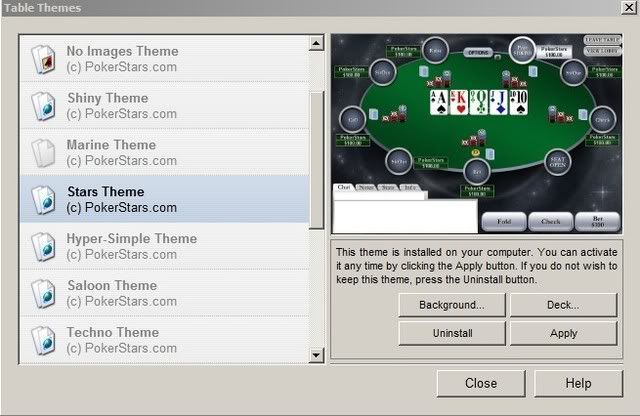 Close PokerStars
DOWNLOAD HERE (This link is for the above table only)
This link should only be used if you don't have an existing XThemes file in your PokerStars folder. If you have already downloaded a custom PokerStars theme before then you can pm me for a different link.
Click on the link above and then click download now


Select Open
Click once to highlight the XThemes file then click on Extract all files
Extract the file to C:/Program Files/PokerStars
open PokerStars to any table

click options

click choose theme

scroll to the bottom of the list and your theme should be there

click on your theme and hit apply
Restart PokerStars if you can't see the theme image.